scroll to article
Why you really need to see Heathers: The Musical
Honey, what you waiting for? Heathers is out on the West End.
So Heathers: The Musical is now officially running on the West End.
If you haven't heard of it, Heathers is a rock musical based on the 1980s film of the same name starring Winona Ryder and Christian Slater. It's a dark comedy centred around high school cliques. And it's clever, sassy and funny to boot. Think Mean Girls, except everyone's dying.
After ending its off-Broadway run in 2015, Heathers finally came to the UK this year starring fan-favourite Carrie Hope Fletcher. But here's the catch—it's only here for a few months. In fact, the last performance will be on the 24th of November.
Here's why this show is a must-watch—before it's gone for good.
It's criminally stylish.
Our wicked it-girls at this school are a trio known as the Heathers, made up of Heather McNamara, Heather Duke and queen bee Heather Chandler. Convenient, right? And they're sure to drive an audience crazy when they first step out on stage, complete with their matching blazers, signature colours and big personalities. Everything about Heathers is bright and colourful, with each character having a unique look and characteristics.
In fact, everyone on stage is their own character. There's no "girl A" or "ensemble member 3" in Heathers. On the contrary, the background characters are something to watch out for as they are always acting and have hilarious reactions to the daily antics of Westerberg High School.
Basically, any photo from this musical could be your new desktop wallpaper.
As well as looking cool, there's a lot of symbolism with colours in this musical. When our naive heroine Veronica is initiated into the Heathers she gets her very own blue outfit. And the colour blue becomes interwoven into the show as Veronica gets sucked into her slightly psychotic new boyfriend J.D.'s anti-clique murder spree. You'll find it in the songs, the lighting, and the blue chemical responsible for the show's first death. Speaking of which...
Symbolism and foreshadowing.
Heathers is very clever with its hints that the light and fluffy high school setting isn't here to stay. Some are more subtle and don't hit straight away, like Veronica daydreaming about how she could "blow this town" and "set this dump ablaze." Others are more in your face, like Heather McNamara telling Veronica her face is so symmetrical that if she "took a meat cleaver down the centre of [her] skull, [she'd] have matching halves." Yikes.
But wait - isn't this meant to be a comedy?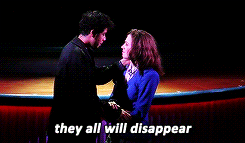 Yes—and it's unbelievably funny.
The original film is full of so many memorable and hilarious quotes that made it into the stage show. And it's the talent of the actors that really sells each one. Also, don't worry if your favourite character dies as they're sure to come back as a less-than-impressed ghost to haunt Veronica. And these make for some of the funniest scenes in the musical as the ghosts bicker amongst themselves and make sure to tell Veronica exactly what they think of her life choices.
It's also probably the most politically incorrect musical on the West End besides Book of Mormon, as any heavy subject is fair game for comedy. What makes Heathers so funny is really the juxtaposition of the darker plot points with each character's indifference to what's going on. I mean, one character asks for her favourite snack, corn nuts, with her dying breath, and then excitedly proclaims that she's now "bigger than John Lennon" as a ghost.
\
But it still has a great message.
Heathers is really all about acceptance. Veronica may be misguided, but at heart she just wants everyone to get along and be "beautiful." The show discusses complex issues such as bullying, eating disorders, teen suicide and sexual assault in a combination of light-hearted and more serious scenes. Two good examples are the songs "My Dead Gay Son" and "Lifeboat."
"My Dead Gay Son" is all about a 1980s father coming to terms with his son's sexuality in the most politically incorrect way possible. It's quite the unbelievable scene, but lines like "these boys were brave as hell. These boys, they knew damn well. Those folks would judge 'em, they were desperate to be free!" have the audience cheering and clapping in support.
Lifeboat, on the other hand, is an emotional song about anxiety. The following scenes are all about suicide prevention and the pressures that come with high school, which really resonate with the show's predominantly teen audience.
Carrie, who plays Veronica, has also spoken on her YouTube channel about what Heathers means to her personally. As well as experiencing bullying in high school, she's "dated [her] fair share of the world's Jason Deans," aggressive and manipulative boys who make Veronica learning to stand up to J.D. all the more empowering for her. And her passion definitely comes through in her incredible portrayal of the heroine.
"I never fought back like I should have... I feel every night like I get to win too, I get to fight back against my past J.D.s via Veronica."
The fans.
One thing you'll definitely notice if you go to see Heathers: The Musical is that everyone really is there to have a good time. The fans are all excited, generous with laughter and applause and often clad in full outfits or the colours of the Heathers.
There's also parts of Heathers culture that you can get yourself involved in while there. The song "Freeze Your Brain" is essentially J.D.'s love letter to slushies. So of course, when you get to the theatre there will be a plentiful supply of slush behind the bar so you can freeze your brain alongside J.D.—and feel like part of a community while you do it.
So, what's your damage? Get yourself tickets to see Heathers: The Musical before it's too late.
Don't say I didn't warn you.