scroll to article
Why 'Jurassic World: Fallen Kingdom' is worth your time
The first Jurassic Park film is an undisputed classic.
It pioneered the art of practical effects, as well as supplying a simple yet enjoyable story that entertains people of all ages. People went crazy for those dinosaurs and wanted to see more. Sadly, this resulted in the Jurassic Park sequels not even Jeff Goldblum could save.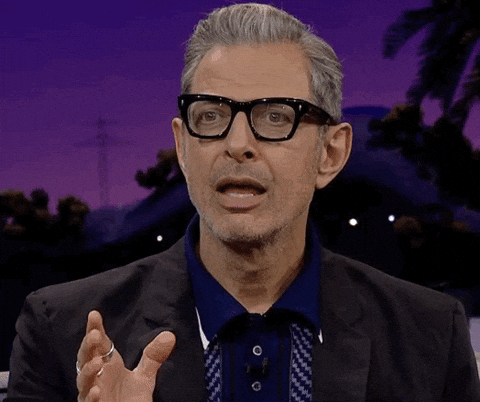 However, after a prolonged hiatus, the dinosaurs are back. And the films are... oddly good!
Upon a rewatch of Jurassic World a few weeks ago (in preparation for its sequel) I was pleasantly surprised that it was still as fun as seeing it on the big screen. Sure, it's not an inspired plot, and the "romance" they shoehorned in is irritating, but seeing a functional dinosaur park was fun. And the fight scene at the end appealed to my childish nature of seeing ridiculous and dramatic carnage.
So, suffice to say, I was now really excited for Jurassic World: Fallen Kingdom. And to my joy, the film delivered on the excitement, action, and even horror. So here some of the few reasons why Jurassic World: Fallen Kingdom is worth a watch.
1. They found a good balance between CGI and practical effects.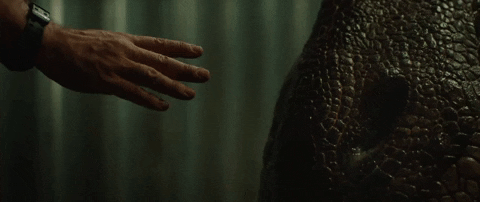 One of the main criticisms for the first Jurassic World was its overreliance on CGI. The dinosaurs lost their tangible, terrifying presence, therefore Jurassic World felt like a disaster film rather than a Jurassic Park film. The studio clearly listened to this criticism and made sure to rectify it. A notable scene where Owen (played by Chris Pratt) and Claire (Bryce Dallas Howard) are trapped in a holding container with a sleeping T-Rex. The use of a model head makes all the difference in creating more tension in the scene, as there is a real sense of danger with a physical being there.
2. Genuinely tense and creepy at times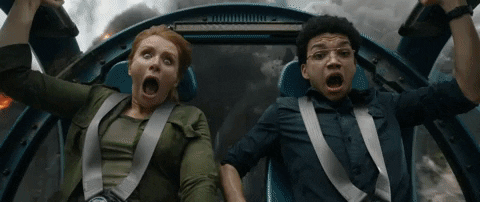 Half set on a volcanic island, half in a Gothic mansion, this film really does all it can to engage the audience in an epic adventure. And it succeeds. The urgency of saving the dinosaurs from an island erupting in a disaster film-esque catastrophe is heart-stopping in its journey from one problem to another. Once the pace slows down, the scares are increased. Set in a secluded mansion in the English countryside, the dinosaurs are put in a new environment that should be jarring to the viewer, yet it seamlessly works as a monster movie, complete with a thunderstorm and lit by moonlight. This is no surprise, as the film's director J.A. Bayona also directed the haunting film The Orphanage, which you can see hints of in the film's style.
3. Stunning visuals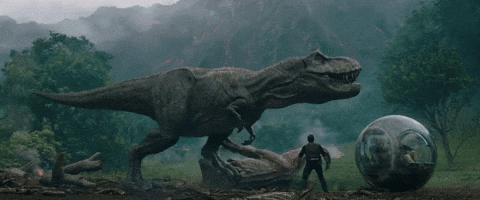 There was a shot in this film that genuinely made me tear up. Not a scene: a SHOT! I'm a pretty emotional person, but I very rarely cry at films. So I was surprised that a blockbuster film managed to make me so invested in even the smallest possible moment in a film of this scale. The cinematography and colour grading fit the settings they represented so well. The darkness of the mansion, and the fiery oranges and dark greens of the island were gorgeous to look at.
4. Exploring new ideas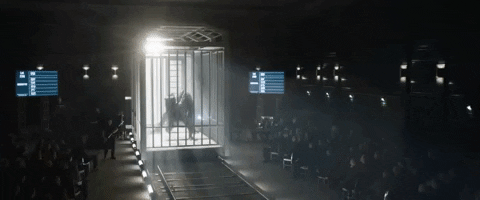 The problem with the previous sequels was their reliance on the Jurassic Park formula: people go to the island, the dinosaurs cause trouble, the people leave. There are only so many different ways to do that same premise, and it got old straight away. That's not to say that Jurassic World: Fallen Kingdom doesn't follow any of these tropes. But it at least introduces some interesting ideas for the inevitable third instalment of this sequel series. I won't spoil anything about the plot, but the ethics around cloning are explored into greater detail than in the previous films, but they left it open-ended in hopes to have that as the central plot point of the next film.
and finally...
5. Mr Jeff Goldblum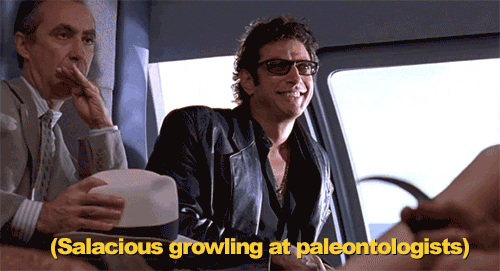 (even if he's only in it for a few seconds)
In conclusion, Jurassic World: Fallen Kingdom is not a masterpiece, nor does it claim to be. But the film takes risks that the previous sequels weren't brave enough to try. The style is changed, the plot is changed, and the choices have made one fan (who is usually trepidatious of needless sequels) very excited to see what comes next.