scroll to article
Mamma Mia! Here We Go Again - a cheesy rollercoaster of emotions
Was it a celebration of the Swedish sensation that is ABBA? Yes. Was it cheesy? Very. Did Queens Meryl Streep and Cher singing ABBA on-screen make the long wait worth it? Absolutely.
(This article will contain spoilers, so if you haven't seen it yet don't carry on reading.)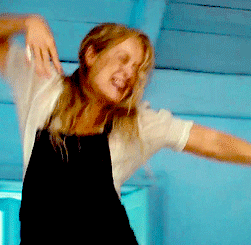 The basic plotline revolves around Sophie (Amanda Seyfried) following a somewhat similar pathway to her mother: pregnant and rebuilding the Villa Donna Hotel. Through a series of flashbacks that link to Sophie's present situation, we witness a young Donna—played by the fantastic Lily James—as she meets, Harry, Sam and Bill in the summer of 1979.
The acting in the film is cheesy and over the top, but what do you expect from a musical that's based around ABBA songs?
The scene stealers without a doubt were Christine Baranski (Tanya), Julie Waters (Rosie), Jessica Keenan Wynn (young Tanya) and Alexa Davies (young Rosie). With witty and memorable one-liners, all four of these talented actresses bring the crude humour that this sort of film requires. Although, I must give a particular shout out to Colin Firth (Harry) and Stellan Skarsgård (Bill) for their incredible dancing in their remake of 'Dancing Queen'.
Of course, the most iconic moment of the whole film goes to (her majesty, Queen) Cher, as she showed the world how to gatecrash a party in style. Her rendition of 'Fernando' was stunning - and her costume practically screamed Cher.
Now on to the choice of ABBA songs, 'I have a dream', 'Mamma Mia', 'Dancing Queen' and 'Super Trouper' all return in this film. And whilst 'I have a dream', 'Mamma Mia' and 'Super Trouper' were resurrected by the brand new cast, 'Dancing Queen', unfortunately fails to stand out this time around (clearly due to a lack of Meryl). The new songs featured in this film are still stuck in my head (especially 'Waterloo') and will in no doubt be played on repeat by ABBA and Mamma Mia fans around the world at every party.
It's the feel-good film of the summer, that will take you on a two-hour emotional rollercoaster that will have you laughing, crying and of course, singing along!
Watch the trailer for Mamma Mia 2: Here We Go Again, which is in cinemas now.