scroll to article
Makeup tricks to make you look like you've put the effort in
Not all of us have the time or the effort to wake up early to wack on a full face of makeup.
Whether it's because you can't stand the idea of doing your makeup in the dark during winter, or because you're hungover and have a 9 am to go to, makeup hacks are great to know because you never know when you'll find yourself using them.
Put an oil on your face before bed
Sometimes my parents are like "you spend too much money on stupid things" and sometimes they're like "buy that $95 face oil it's worth it"

— Sad Bitch Under the Rainbow (@MssMononoke) November 2, 2017
You might think that it looks like you're trying to deep fry your face, but a face oil will soak in overnight leaving you with dewy skin making you look awake and healthy. Skincare is important, but not all of us have time to follow the tens of steps every night, right? Good oils to use for an overnight treatment are coconut oil, argan oil or jojoba oil.
Mix your foundation and moisturiser together
If you came home after a night out and collapsed into bed without doing your usual skincare routine, in the morning mix some of your foundation with moisturiser together—as long as they're both water-based otherwise you'll have a sliding mess on your face—to hydrate your skin throughout the day.
Put moisturiser on your brows
If you're going for the no makeup look—but hate your non-existent eyebrows—put a tiny bit of moisturiser on your brows and draw them in. This way you won't use as much product because they'll look more natural and slightly more sparse. This will require almost no effort on your end, but you'll look like you've spent precious money on getting them done at your brow counter. Tip: pencil eyebrow products are best for this because you'll have way more control over the shape.
A little bit of eyeliner goes a long way
My eyeliner is more together than my life right now

— Ashley Taylor Sulzby (@asulzby) November 2, 2017
This will make people think you know what you're doing with your life—if you can do eyeliner you can do anything.
Highlight your highest points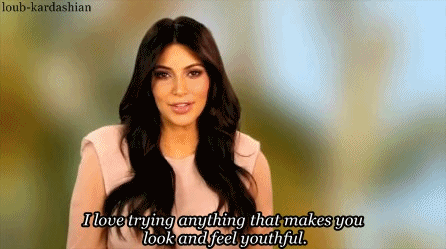 Putting on highlighter, even without foundation, can make you look healthier. Kim and Khloe Kardashian swear by this trick when going to the gym, and technically it doesn't really clog up your pores if you're just wearing the highlighter on its own. Put it on your cheekbones, the middle of your forehead, your cupid's bow and the tip of the nose to look like a glowing fairy.
Any eyeshadow is good enough
Even if you're putting all your efforts into the eyes, you can easily blend your life away with the three colours that you've just picked, but sometimes less is more. Try a brighter shade on the whole lid and blend up, it can work just as well and will take minimal effort because you're only using one colour, one brush, and just one minute of your time. If you're feeling fancy, add a colour into the crease to add a little bit more depth—but warning—this will add an extra few seconds to your routine.
Lipstick in any shade is a yes
Lipstick will automatically make you look way more glamorous. It gives people the impression that you have the patience to apply it and wait for it to dry and then correct your mistakes. When in reality, by the nth time you'll do it, you'll be able to do it using your iPhone's front-facing camera and hope that you didn't get any on your teeth.