scroll to article
Household items or cheap and easy beauty hacks?
Let's face it beauty products can be quite pricey.
These cheap and easy beauty hacks won't just soothe your skin, but will also help save your bank account.
Avocado face mask
Soothing, smoothing and hydrating. Avocados actually work great for the ageing process, and it's good to start young. They are also compatible with extremely dry or sensitive skin, which can be a hard find at times. If you're hungry, you can always use half of the avocado—rather than the entirety of it—and make avo toast with the other half.
If you're a fan of honey masks, grab a ripe avocado and mash it up until smooth. A great way to check if it's ripe is to squeeze it if - it's slightly squishy, it's perfect. Once you've done that, add a tablespoon of honey and mix until everything is a paste. Apply for 15 minutes and rinse off with warm water, then pat your face with a cold towel to close all your pores. If you fancy the sound of an oatmeal mask and are in need of the extra moisture, make your oatmeal as per usual, mash up your avocado as instructed above, and mix the two together. Again, apply for 15 minutes (or until you feel it flaking off) and remove it with warm water.
Charcoal and PVA glue pore mask
This one is a bit controversial due to the glue. However, as long as you get the non-toxic kind and you don't have super sensitive skin, you'll be good to go. Charcoal pills are often used for wind relief, but they're also great for lots of other things, including cleaning your skin.
Grab two charcoal pills and empty them, or crush them (depending on which kind you do end up getting) into a bowl—it may not look like much but give it time. Then add a dollop of non-toxic PVA glue (literally the tiniest amount, equal to a teaspoon) and grab a toothpick or an old makeup brush that you don't mind ruining, and mix. When the powder looks mixed in, you're ready to put it on. Before you apply it, make sure that you have steamed your face to open up your pores for the best results. Apply with your fingers or an old brush, and avoid your hair, then wait for it to dry. Once dry, pull the mask off and have fun inspecting the blackheads you have just pulled out. If you want to reuse this, grab an old pot and make more of this for later. As long as the mask is in an airtight container then it should be fine for some time.
Coconut oil mouthwash
Yes, this may sound disgusting for some but hear me out. This method is called oil pulling and can help whiten your teeth, freshen your breath, and improve your overall dental health. The oil essentially pulls bacteria from your mouth and leaves you with squeaky clean teeth.
Ohhh coconut oil... good for so many things

— dorothy wang (@dorothywang) November 9, 2017
If you fancy having a go, grab a tablespoon of coconut oil and place it in your mouth, and then begin swishing. Act as if it's normal mouthwash and try not to think about what you are doing to stop yourself from gagging. Do this for around 10 to 15 minutes to allow the bacteria to dissolve in the oil and then spit it out. Ideally, not into the sink because this can clog your drains as this type of oil hardens when it reaches a certain temperature. So grab some toilet paper or a paper towel, and get rid of it that way. If you do this for long enough—we're talking at least two weeks daily—you will notice a difference in your teeth colour.
Toothpaste nail miracle
Do you have yellow nails and feel self-conscious about them? You probably have the item to resolve this in your bathroom.
Apply a coat of your normal toothpaste onto your nails, leave them on for about a minute and then rub the toothpaste in with an old toothbrush, or your fingers if you're feeling lazy. Following this, wash the toothpaste off and enjoy your new fresh-smelling whiter looking nails - who knows, maybe the claims of whitening toothpaste are actually true?
Oil makeup remover
While this may not be a good option for everyone, it does work miracles. The oil breaks away your makeup and helps to remove every last bit of it. If you do fancy giving this one a go, start in small amounts and don't do it every day to avoid breakouts. Specialists recommend introducing this into your skincare routine slowly.
Coconut oil may be the most popular for almost everything to do with skincare, but you can use any kind of oil like sunflower, almond, argan or castor. Simply put some on your palm and rub your hands together, and then start massaging the oil onto your face to start removing your makeup. Make sure to pay close attention to your eye makeup to make sure that you break every bit of your mascara up to avoid lash breakage. Once you're looking like a villain from a horror movie, go ahead and wash your hands, and then wash your face with warm water to remove the makeup and the oil. Be aware that this is not an alternative to moisturising - so don't skip out on your moisturiser just yet!
Oatmeal bath
Ever fancied having a bath with your breakfast? Oatmeal can calm your itchy, inflamed and sensitive skin.
The best way to do this is by grinding up a cup of raw oatmeal into a fine powder. Make sure that there are no lumps as I doubt you will want little bits of oatmeal touching you in the bath later on. Once you have done this, run yourself a warm bath and sprinkle the oatmeal as the bath is filling up. When you have no more powder left, stick your hand in the water and mix the two together until your bath looks milky. Enjoy the warm bath for 15 to 30 minutes to let your skin absorb all the moisture.
Conditioner as shaving cream
We know that shaving cream can be an expensive thing to buy, and we might not always consider it as a necessity. But applying it before you shave helps to reduce razor burns, lowers risks of cutting your skin's top layer and makes your skin softer.
Instead of splurging on expensive shaving creams just apply your normal hair conditioner—or the cheapest one you can find so you can have that one separate for those long hair leg days—and then go ahead and shave. Your legs will feel a lot smother—guaranteed.
Tame your flyaways with a toothbrush
Toothbrushes are small and super convenient and have lots of different uses—whether that's for using them for their actual purpose, cleaning under your nails, cleaning your bathroom tiles, or for your beauty regime. If you have a spare one, here are some things you may want to use it for: Not all of us can afford fancy pencils with spoolies at the end of them, but we all want perfect brows that are brushed the right way. Toothbrushes work the same way as spoolies, but can you get five spoolies for a pound from Poundland? Didn't think so.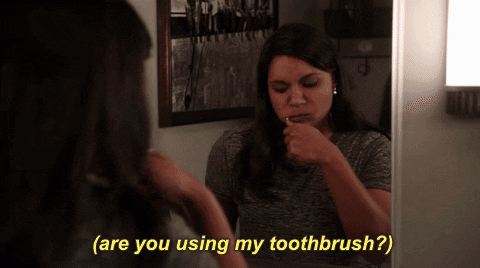 Obviously, facial brushes are made from the same synthetic bristles, so why not use a spare toothbrush to exfoliate your lips before that all-important lipstick application? If you want to add extra volume to your hair, backcombing used to be the way to go. You'd wack out a huge brush and tackle the challenge of not looking like you've just rolled out of bed. Times have changed and people have found items that replace the huge brushes—such as toothbrushes. Simply grab a toothbrush after parting your hair, and tease your hair to add volume. The dense bristles will do a great job, that's a given.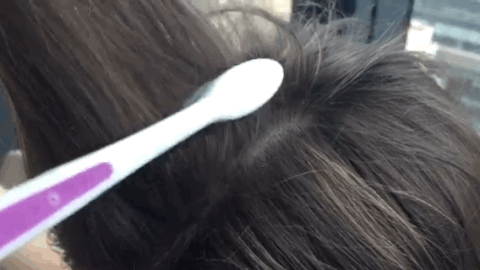 Another thing you could do with this magical multi-tasker is to spray the toothbrush with hairspray and comb all the strands that stick out. This will keep them in place for a while. This trick is especially useful for ponytails, especially if you want to look extra sleek.
Salt/coffee and oil scrub
You've probably heard a lot about homemade scrubs, and there's a good reason why. They're cheap, lack chemicals, and actually work. Once again, there are a few ways you could make this. These two-ingredient scrubs require any kind of oil, you could use Bio Oil if you're looking to moisturise and get rid of any scars or stretch marks, but if you want to save money stick to olive oil. A coffee scrub is meant to reduce cellulite due to the caffeine in the beans. Simply grab a handful of coffee beans and mix them in with a spoonful of oil, until you reach a consistency that resembles a paste. Apply and scrub away, enjoying the awakening smell that comes alongside this cheap treat. This one's also great for when your hands smell of garlic and you just cannot stand it—scrub the smell away with coffee!
Another idea is to mix salt—or sugar—with your choice of oil. If you're using an oil which has a particular smell, feel free to add a drop or two of your own fragrance oil, such as peppermint. Once again, mix until this forms a paste, don't let the colour put you off.
Do remember that these scrubs are too harsh for the skin on your face, so skip out on the homemade treat and buy one specifically for your face so you don't go and irritate it. These work best for other parts of the body and are perfect if you fake tan frequently.
Breakfast banana and egg hair mask
If your hair is lacking shine, you've probably tried countless oils and conditioners in order to tame your tresses. Bananas contain antioxidants and vitamin C, as well as nourishing properties, so there is no reason not to put it on your locks.
Grab a ripe banana and mash it up till the consistency resembles baby food. Then add one egg and mix it all together. Leave this concoction on for half an hour to get the best results, and proceed to wash your hair as you normally do. You might, however, want to add a bit of your usual conditioner to the tips to provide them with some extra hydration. And in case you have spares of both ingredients, make another batch of the same mixture and make yourself some pancakes while you wait for the mask work its magic.
Vaseline and perfume holy grail
As a student, you probably hate wasting your favourite perfume which you got last Christmas. But, in order to make it last all day and stop you from smelling of anything else but Black Opium, simply pop a smudge of Vaseline on your neck, wrists and anywhere else where you want your perfume to last, and spray the perfume on these spots a few seconds later. Do you ever wonder why oils last longer than normal perfumes? This is because oils hold onto the perfume in them, preventing evaporation.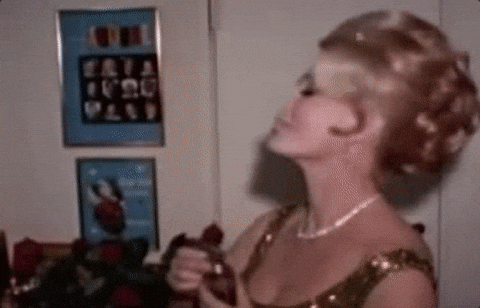 What's not to love? You're keeping yourself moisturised and smelling good at the fraction of the price of a new bottle every week.
Vinegar cleansing shampoo
This might sound gross, but so does build up of oil in your hair, right? If you're finding that your hair is becoming extra greasy, extra fast, this is probably due to the excess oils on your scalp. In order to avoid unnecessary bacteria and odour, follow the steps below. Grab around 50ml (1/4th cup) of apple cider vinegar and mix this with 100ml of water (1 cup). Pour this over your head, and massage the mixture in well, making sure to coat your entire scalp. Simply wrap your hair in a towel, and wait 20 minutes for this to do its job. Follow up with your normal hair routine after this to reveal lovely clean locks.
The enzymes in the apple cider vinegar break down the oils, and the elements which it contains will also condition and strengthen your hair if you do this treatment regularly.
Perfect even eyeliner
Tape provides you with those straight lines you need to get perfect and even eyeliner each time. This hack is definitely one for beginners because you can't mess this up, it's like colouring in between the lines. For an even easier procedure, place another strand of tape on your actual eyelid so you get the thickness of both eyes right.
Do be careful as tape can irritate some people's eyes, and red and watery eyes are not compatible with eyeliner. Fresh tape can also pull heavily on your skin, so stick it on your palm a couple of times to get most of the glue off. You can also use this for sharp eyeshadow, or to get rid of fall out. Tape is used by most beauty gurus to get many things even, including contour! So if you want to contour like Kim Kardashian, place a long-ish strand of tape just below your actual cheekbone and apply away.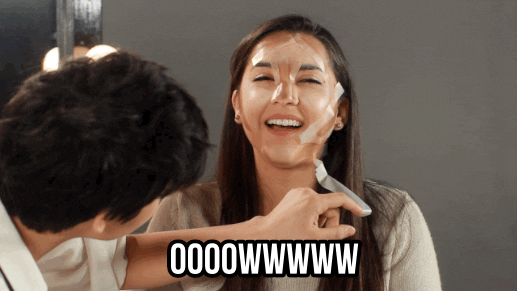 Vodka is a miracle
While Vodka might be some peoples worst enemy, it has plenty of benefits. First of all, vodka is an antiseptic so keep those half-empty bottles for the dark hour.
i like 2 use a mixture of my own tears and just straight vodka mixed together in a toner https://t.co/04sg0UDR1Y

— LIV (@olivialoe) May 1, 2017
Probably the most magical of all uses is the fact that this substance can be used as a great toner. It's known to tighten pores and reduce the ageing of your skin—who would've thought? Simply pop a drop on a cotton wool pad and wipe across your face. You can also brew some green tea and mix this with the alcohol to create a soothing and refreshing treat for your skin. Another use for this terrifying drink is to pour some into a cup and keep your razor in the cup between uses. This will disinfect it, keep it super shiny, and keep the blades sharper for longer!
Every time I use my toner it legitimately feels like I'm rubbing a shot of vodka all over my face.

— Crystal✨ (@CrystaLyn_) December 17, 2016
Do be careful not to get this in your eyes, as you don't want to be doing suicide shots during your evening skincare routine, right? Do remember that this has drying properties in it, so while it may be good for drying out that stubborn spot, or people with oily skin, do avoid using other drying products alongside this to stop your skin from resembling sandpaper.