scroll to article
Cuffing season: here's the dating app that you need to use this winter
Once summer ends and the festival flings/holiday romances go with it, suddenly it's cuffing season, and if you want to get drafted, it's time to get on happn.
It's the season of Christmas parties, family gatherings and Instagram feeds full of lovey eyed couples ice skating and drinking overpriced lager at Winter Wonderland. We'll all have a laugh at the stereotype of couples during this time of year, but despite the fact we won't admit it, we'll all yearn for companionship at one stage or another during the holiday season.
It's part of our biological makeup to want to couple up this time of year. Once the evenings get darker and the temperature drops, our natural intuition tells us to find a mate and hibernate from the cold, so don't blame yourself for giving in to cuffing season—it's science.
Whether you just want a human-sized hot water bottle to snuggle when it's minus five outside, or you're simply looking for someone to bring to this year's festivities so you don't feel like you're third-wheeling your friends again, perhaps happn, the dating app that has exploded in 2019, could be your saviour.
What is happn?
In a world filled with superficial dating apps that lack in-real-life connection, happn steps in to break the stereotype. The difference? Instead of sucking away your time making you endlessly scroll through people you've never met, happn opens the door to your potential match being the very person you walked past on the street earlier that day.
happn is the app we've all been looking for when we've had that cheeky glance at someone on a packed tube, the queue for a gig, or even—if you want a real cliché—in a lift, where maybe you didn't have the chance to strike up a conversation without creating a very awkward atmosphere for everyone around you.
Instead of going home and imagining an alternate universe where you both began your Taylor Swift-esque love story, happn allows you to have another chance with 'the cute stranger you saw on the bus'. After all, fate is what brings two people together, happn is just giving it that nudge in the right direction.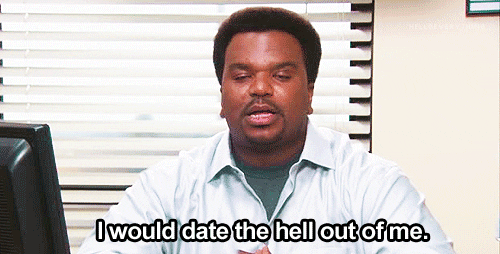 How is it any different from all the other dating apps out there? 
happn's geographic technology deviates from other dating apps that repeatedly show you people whose location simply isn't practical. Travelling from Leicester to Southampton for a couple of drinks at some 'quirky' bar with a guy who labels himself the 'funniest fella on the south coast' really isn't something anybody should have to subject themselves to. happn rethinks the dating dynamic and instead matches you with people who already frequent your favourite places, meaning you can save on the train fare and buy the first round instead.
Unlike a lot of apps that leave you mind-numbingly swiping for hours on end, it offers potential romances in a timeline as you crossed paths with them, implementing a map of the general area you met.
Finally, the app has the rare trait of not being solely focused on the superficial quality of attractiveness and instead encourages users to value personality and lifestyle. Because of the app's location-based functions, whether you crossed paths at the same art exhibition or aisle in Tesco, happn helps you find the people who already enjoy the same things you do.
With 1.5 million new users each month, happn is quickly becoming an online dating favourite for many people in finding their match. Perhaps this winter it could be you freezing in an ice bar with a £9.50 glass of mulled wine hating/loving being part of the cuffing season stereotype. Happy coupling!
Advert: