scroll to article
Was Balenciaga's AW18 collection secretly inspired by Joey Tribbiani?
We think so.
The fashion trend of larger outerwear is still circulating around the fashion industry and we are seeing more and more designers embracing the style. Balenciaga, in particular, has added elements of this trend into their AW18 collection with models walking the runway in layered outfits, massive coats and huge jackets.
Creative director Demna Gvasalia created a highly anticipated and celebrated runway show for Paris Fashion Week, with part of the collection involving extremely wide silhouettes.
Since the show in February, there has been lots of people on social media discussing the fashion collection and how it looks similar to a scene in the famous American TV sitcom, Friends. In the episode 'The One Where No One's Ready', we see Joey wearing all of Chandlers' clothes.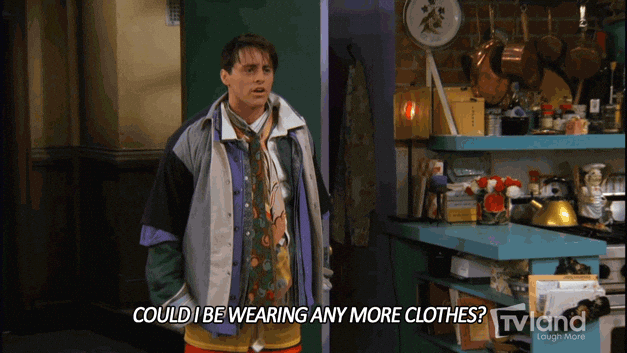 This layered trend is what people on social media are saying looks similar to the Balenciaga 2018 fall collection. Inspired by this discussion, an Instagram account called @siduations edited the models from the Balenciaga runway into famous locations from the show like the Central Perk cafe and Monica's apartment. You can even see that the designer has changed the iconic title design for Friends with the letters of Balenciaga.