scroll to article
8 beauty hacks you need to try
Who doesn't love making their lives easier?
Try these hacks out to be blown away.
1. Make your eyelashes look ten times more expensive
Grab yourself a pair of fake lashes and a clean spoolie. Then simply work the spoolie through the hairs, left, right, up and down until you start to separate the individual hairs. This will make your lashes look slightly shorter, but it will make them look fuller and more realistic.
2. Avoid fallout
No-one likes patchy eyeshadows under the eyes. So, to avoid fallout, simply place a piece of tape under your eyes and take it off when you're done. Also, this will also create a sharp line making it perfect for those steady liner flicks!
3. No more clumpy lashes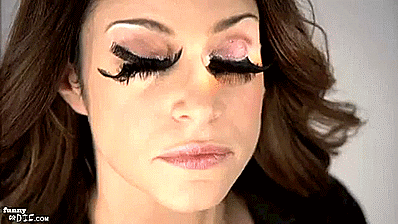 Pop your mascara into your bra a few minutes before you're about to use it. This will melt the product down, meaning you will avoid those clumpy lashes that were popular years ago.
4. Brow gel? No need.
Grab yourself a spoolie and spray it with hairspray. Then brush through your brows to make them stay in place – no more spending extortionate amounts on brow gel.
5. Mascara spots
If you get mascara on your face while doing your makeup, don't rush to take it off. Allow it to dry, and then grab a cotton bud to brush it away – you'll smudge nothing.
6. Mascara for days
If you need a new mascara, but have no way of getting to the shop to stock up on more, pop some eyedrops into your tube and mix it in with the brush. This will allow you to use it for those few more days – perfect for when you're on holiday!
7. No more expensive shaving cream
Conditioners can be just as good as expensive shaving cream. Always opt for cheap conditioner, don't use your nice expensive stuff just to shave your legs!
8. Revive your liquid liner 
If your felt tip liner is about to run out, grab some tweezers and pull the tip out. Then simply turn it around, and place the dry end into the tube – boom, you've got yourself a few more uses out of it!