scroll to article
5 Netflix shows you need to binge when you're feeling down
Burnt out from uni? Work getting you down? Are the holidays just too far away? Sounds like you need a break.
Who else can you trust but Netflix? Here are some shows on Netflix UK to keep your spirits up.
1. The Good Place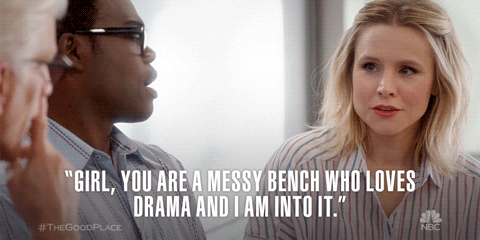 If I said a show about death and philosophy could be light, you'd think I was mad. But The Good Place hits the jackpot. Eleanor Shellstrop finds out she is dead and has ended up in The Good Place in her afterlife. However, it becomes clear very quickly that she doesn't belong here - and her flawed presence is having a detrimental effect to the ever-after town she's hiding in.
All of the characters here are exceptional in their own right, their opposing, messy personalities creating amusing conflicts and iconic quips. Quirky and light with a sprinkling of ethical ponderings, the sharp wit and unusual setup make this a must-watch. And watch out for that season 1 plot twist. I'm still not over it.
2. Great British Bake Off

Is there anything more British than people politely competing against each other to bake the best cakes? I don't think so. Netflix UK doesn't have the Channel 4 episodes - but fear not, all the series on the streaming site are still just as good, if not better. (The current series doesn't even allow innuendos.)
What makes GBBO delightful is its ability to make a trivial pastime so intensely fun. It shows off the best of humanity - the camaraderie, the determination, the emotion. Before Bake Off, I never knew I could get so invested in blancmanges. Before Bake Off, I never knew I'd be so gripped by a Baked Alaska being dumped in a bin. Poor Iain.
If you're not watching already, then you're missing out. There's drama, there are disasters, there are showstoppers - and there are cakes. Lots and lots of cakes. What else do you need in life?
3. One Day At A Time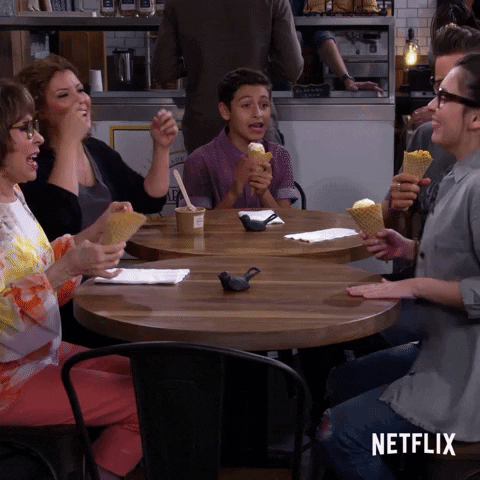 This is a sitcom that really reflects American life today: diverse, complicated, messy, and loving. One Day At A Time's modern reboot follows the family of Penelope Alvarez, a veteran Cuban-American as she brings up her two children with the help of her fabulous mother and the added - mostly unnecessary - contribution of their landlord.
This show treats realities of their lives with care, touching on the subjects of being Cuban-Americans in today's political climate, dealing with PTSD after serving in the military, and the daughter Elena's discovery of her sexuality. However, this a show that emphasises the joy of its characters most of all. They all care for each other deeply and it shows in every episode. Family is the blood that runs through every story, and it makes for a very uplifting watch. It may make you cry, but it'll make you send that quick text to your family they've been waiting for too.
4. Jane the Virgin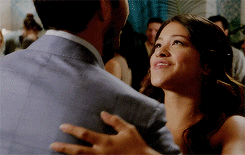 If you're a lover of telenovelas, then this show should already be in your queue. It takes the idea of the telenovela - all the drama, all the pizazz - and ramps it up to a hundred, proving once and for all that you can have seasons of scandal after scandal and never be bored. Jane the Virgin starts as it means to go on, with one crazy circumstance after another: Jane Villanueva finds out she is pregnant - despite never having had sex. She has been accidentally artificially inseminated and the new dad is not her boyfriend but Rafael, the rich owner of the hotel she works at.
Jane the Virgin is acutely aware of its status as a telenovela, poking fun at the sensationalism of the genre while still being littered with fun, heart-wrenching and sweet moments. The charming Villanueva clan stay at the heart of the show despite its many entangled plots and offer very relatable insights into family life - how despite it all, people can still come back to each other and enjoy the life that's been set out for them.
5. Queer Eye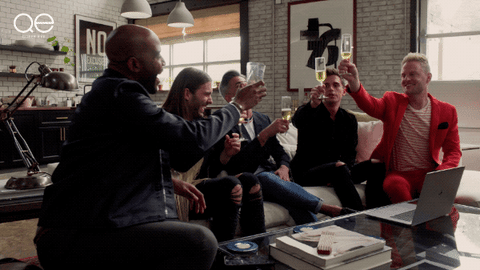 Arguably the best breakout show on Netflix on account of its sheer purity, this show is a balm to any misery. Another revival, this time of the originally successful 'Queer Eye for the Straight Guy' from the early noughties, five gay guys ambush different straight people (predominantly straight men) and give their lives a much-needed makeover. Karamo helps them improve their outlook on life; Jonathan tackles hair and beauty; Tan transforms their wardrobe; Antonio gives tips on healthy cooking, and Bobby redesigns their houses.
The brilliance of the show is the simplicity of its purpose. These guys just want to see these people succeed. The Fab Five try their hardest to connect with the nominee and get them to achieve their aim, whether it's for a proposal or a fundraiser night for the fireman's department. With very distinct personalities, many heart-to-hearts and fierce fashion to boot, you're guaranteed to have a blast.
These are five men living their truths and helping others to do the same. They'll make you laugh and they'll make you cry, and you'll finish every episode believing in humanity again.
Featured image: wutzkohphoto / Shutterstock.com