scroll to article
4 times Theresa May has completely embarrassed the UK
With the fate of the UK on her shoulders Theresa May has a heavy load to bear, so we can't blame her for slipping up occasionally.
Here are May's five most embarrassing moments that prove that she's only human just like the rest of us.
1. i-May
Last October Theresa May took to the stage at the Conservative Party conference to the tune of Dancing Queen and declared to the nation that austerity was coming to an end. #SoldFromUnderYou https://t.co/zkhN2PqPXq pic.twitter.com/nVGJoZ2vKF

— Becky Barnes (@BeckyBarnesB) March 4, 2019
Last October the world bore witness to a sight that can never be unseen: Theresa May robotically strutting and shimmying her goods on the Conservative Party conference stage, whilst Dancing Queen blared from the speakers. Maybe she was auditioning for Strictly 2019? Who knows?
It was no surprise when people took to Twitter, to unforgivingly compare her to the child-catcher from Chitty Chitty Bang Bang, while others branded her a Cold War Robot.
Amidst the wheat fields story, the ABBA dancing, and now quoting Alexsandr the fucking Meerkat, I am convinced Theresa May is a resurrected Cold War robot AI that gains info on humans from the fucking Wayback Machine.

— WORLD TITLE TIME LIMIT DRAW IN THE MIDDLE OF A PPV (@TheKatyLawson) February 27, 2019
Theresa May dancing is legit the child catcher from chitty chitty bang bang ??

— Emma Fidler (@emfidlerx) September 1, 2018
2. The Mexican fail
What happened after Theresa May's Mexican wave... pic.twitter.com/4tXOKKe6aU

— JOE (@JOE_co_uk) June 14, 2017
If you thought things couldn't get any more embarrassing for poor May, then look away. Millions watched her do the Mexican wave—badly, and out of sync—at the England versus France game. Some viewers took to Twitter to share their lovingly-made GIF's.
3. Are you lonesome in Brussels tonight?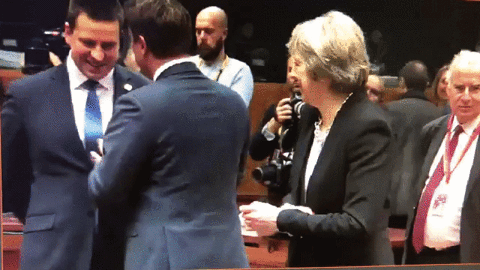 Britain cringed in unison last year when a video emerged of May being awkwardly ignored by other attendees in Brussels. Bless her heart, microwave dinner for one tonight, aye May?
4. Who said Politics was 'simples'?
I thought nothing would make me cringe more than This Time With Alan Partridge, but then I saw Theresa May saying 'simples' pic.twitter.com/QK7E6yxT6c

— Chris Morris Bits (@chrismorrisbits) February 26, 2019
A few days ago, May channelled her inner meerkat in the House of Commons, by punctuating the end of her speech with the unforgettable phrase 'simples.' Maybe she thought it would help her gain votes amongst the under the 30s? Or was it really for a bet? Whatever the reason behind this misjudged gaff, people flocked to Twitter to express their amusement.
Theresa May just said "Simples!" pic.twitter.com/TpdRu1L6Ch

— Oonagh (@Okeating) February 26, 2019
What do you think was Theresa May's most embarrassing moment? Tweet us @UniNewsHQ
Featured image: Alexandros Michailidis / Shutterstock.com